Clark Moody, the creator of the first real-time Bitcoin market data website, recently recollected the BTC market's history over the last ten years. He pointed out that if the first BTC buyer held onto their holdings, they would have made a humongous 18.4 million percent return on his investment.
It's also worth pointing out, though, the overall influence that Mt. Gox as a Bitcoin exchange had on the overall development of the market.
Unimaginable Bitcoin Returns
In a blog post titled: Ten Years of Bitcoin Market Data', Clark started by talking about the first BTC trade on the now-defunct Mt. Gox exchange.
Exactly ten years back on July 17, 2010, the exchange executed its first Bitcoin trade with a 20 BTC order between two parties. The total value of the transaction was just $0.99. Bitcoin's price was trading at $0.04951 back then.
As per Moody, folks used to trade real-world goods on Mt. Gox for Bitcoin, before real-time trading came into the picture. With that particular trade, July 2010 saw the beginning of the uber-popular real-time BTC price market.
And as for the trade, this is what it looked like:
Time: 2010-07-17 23:09:17 UTC
Amount: 20.00000000 BTC
Price: $0.04951
Value: $0.9902
At the time of execution of the above transaction, around 3.4 million Bitcoins were already in circulation. The market cap was ten times less than now – $170,000.
And what if the buyer didn't sell? Well, at current prices, he would have made a 184,000x return on the dollar investment. Clark reflected on the exponential 6-figure growth of the Bitcoin market in the last decade. But he also remarked that it's never too late to get in. As CryptoPotato reported, Bitcoin has been the best performing asset of the last decade.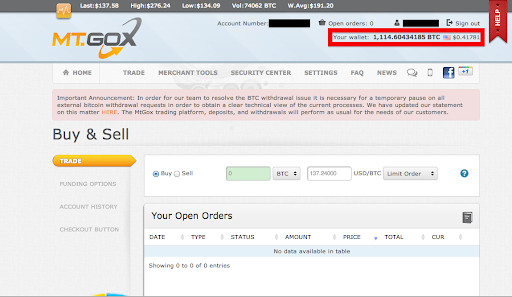 The 1000X Pump and Unveiling of Clark Moody Bitcoin
Following Bitcoin's price action, Clark pointed out how BTC rocketed to $0.1 in September 2010 only to crash to an all-time low of $0.01 on October 8. Nine months later, the leading cryptocurrency would rally to register a 1000X appreciation in value in June 2011.
That's the time Moody got into the space intrigued by the 'free and open real-time market data coming from Mt. Gox' and launched his website. It received rave reviews on BitcoinTalk where he announced the site's launch.
Since then, BTC's market aspect has been his primary area of interest, with all his projects centered around the same. But that's not all. He soon moved to explore Bitcoin's network numbers through the launch of a dashboard.
The Decade That Followed and The Road Ahead
While concluding his chronicle, he observed how the Bitcoin market has progressed through time and achieved ten times higher valuation today at $170 billion from $170,000 in 2010.
He also noted that every rally had attracted a new bunch of folks who get pulled into the ecosystem to try and unravel the mystery behind this 'magic internet money' and how BTC is not dying and here to stay. According to him, Bitcoin's price volatility will not end soon:
Each wave of volatility brings a new batch of memes, startups, hacks, bankruptcies, liquidations, and of course, Lamborghinis. Bitcoin's nature as sound money means that the miners can't simply increase output to meet increased demand, so I don't predict we'll see the end of volatility any time soon.
He concluded that Bitcoin solves questions and queries pertaining to 'the nature of money and the state.' BTC is actually showing people what sound money is, and what sound money feels like.
It's also worth noting, though, how massive centralized exchanges such as Mt. Gox had a paramount impact on the development of the entire market. Back in the years, Mt. Gox was the predominant Bitcoin exchange, and as such, it controlled a huge percentage of the market. Soon after, it was hacked, and billions of USD worth of BTC was stolen – the case goes on until today.
And while the majority of major exchanges are still centralized, there's at least a huge competition. The trading volume is spread between a number of venues such as BitMEX, Binance, Coinbase, KuCoin, Huobi, Bitfinex, OKEx, and others. More and more are coming to the market every day, making a hit like that on Mt. Gox and the devastating effect it had on the market a lot less likely.
SPECIAL OFFER (Sponsored)
Binance Futures 50 USDT FREE Voucher: Use this link to register & get 10% off fees and 50 USDT when trading 500 USDT (limited – first 200 sign-ups & exclusive to CryptoPotato).
Click here to start trading on BitMEX and receive 10% discount on fees for 6 months.
---