Crypto activity continues to flourish worldwide, according to a new cryptocurrency adoption index published by the blockchain intelligence firm Chainalysis. The researchers compile onchain digital currency retail value transferred, onchain crypto deposits, peer-to-peer exchange volume, and other types of methodology.
Chainalysis recently published a new report called the "2020 Geography of Crypto," a study that examines 154 countries and the flourishing cryptocurrency adoption in these areas. The company created a crypto adoption index from the large list of nation-states and only 12 countries had very little traction compared to the rest.
Nation-states that ranked the lowest in the adoption index include Afghanistan, Algeria, Cape Verde, Chad, Fiji, Laos, Libya, and Mongolia.
The top ten countries are ranked by four individual metrics that are combined to create the official ranking. The top country, as far as onchain value received, onchain retail value received, number of onchain deposits, and peer-to-peer trade volume is the Ukraine.
This country is followed by Russia, Venezuela, China, Kenya, U.S., South Africa, Nigeria, Colombia, and Vietnam respectively. "Cryptocurrency is truly global," the Chainalysis report notes. "Developing countries have high grassroots cryptocurrency activity," the study adds.
Chainalysis continues by adding:
Venezuela is an excellent example of what drives cryptocurrency adoption in developing countries and how citizens use [crypto] to mitigate economic instability— Venezuelans use cryptocurrency more when the country's native fiat currency loses value to inflation.
The study emphasizes that the wealth preservation tactic is leveraged in Africa and East Asia as well. Moreover, peer-to-peer cryptocurrency exchanges are essential to digital currency adoption in developing nations, Chainalysis highlights.
In the section that covers Africa, the blockchain intelligence firm says both remittances and currency devaluation is what's driving crypto adoption throughout the large continent. The study notes that major cryptocurrency trading platforms now look at Africa as an "opportunity."
Chainalysis details that in Africa regions like Kenya, Nigeria, and South Africa have been seeing more adoption than other areas throughout the continent. Central & Southern Asia and Oceania (CSAO) is also covered in the Chainalysis study and researchers say growth is "already strong."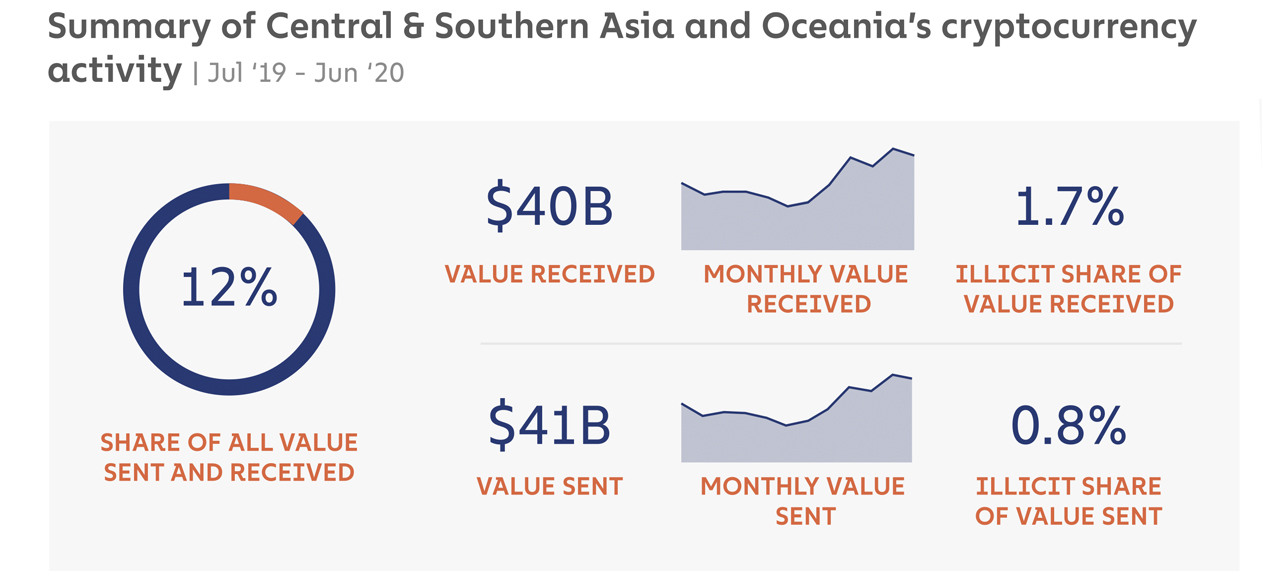 The CSAO area is seeing a number of cryptocurrency regulations adopted within a variety of countries. CSAO is the fifth-most active region worldwide when it comes to cryptocurrency activity and it's seen over $41 billion sent and $40 billion received during the last 12 months.
East Asia is the world's largest crypto market, in terms of crypto activity, capturing 31% of all the digital currency transactions in the last year. Crypto addresses stemming from East Asia accounted for $107 billion received.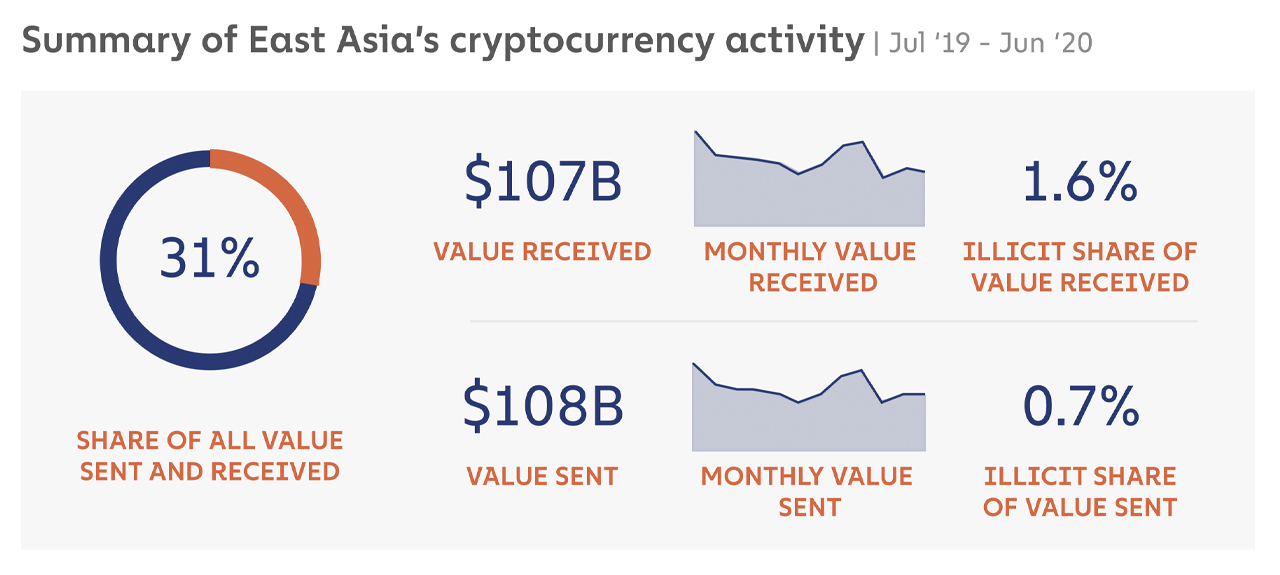 East Asia's cumulated data is 77% larger than the crypto activity in Northern and Western Europe. East Asia is dominated by "pro traders" and "stablecoins," the Chainalysis report highlights. Stablecoin usage in East Asia is "off the charts" in comparison to other regions worldwide.
Eastern Europe has the fourth-largest crypto activity rating globally, and it also contains the top two countries represented in the Chainalysis' crypto adoption index: Ukraine and Russia. "Eastern Europe shows a strong grassroots-level of cryptocurrency adoption," Chainalysis notes.
One reason Russia and Ukraine take the cake, as far as cryptocurrency activity is concerned, is because adoption has come "amidst regulatory uncertainty." For instance, Chainalysis says that Ukraine has zero crypto regulations, but the government just started monitoring crypto activity.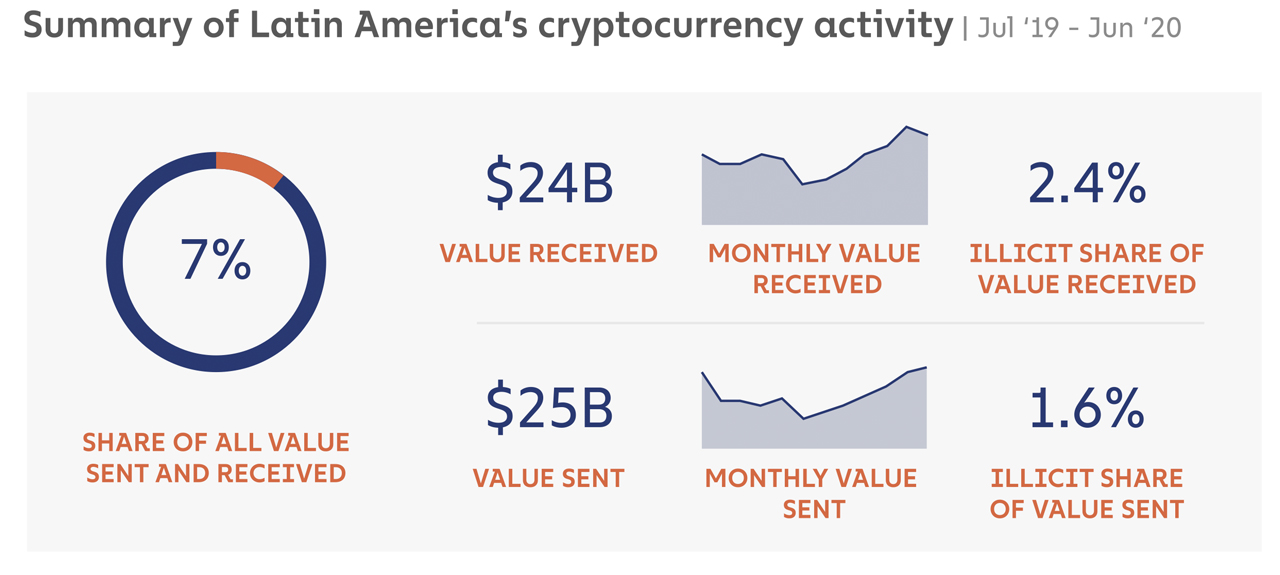 Latin America is smaller in terms of onchain activity, and cryptocurrency adoption is low in contrast to the aforementioned regions. Latin America saw $25 billion in crypto assets sent and $24 billion received in the one-year timeframe.
In any 30-day span, Latin America represents 5% to 9% of the crypto activity aggregate on any given month, Chainalysis emphasizes. Even though Chainalysis says the region is one of the "hottest markets," it also holds the second-lowest growth rate from the regions the researchers studied.
The crypto forensics firm says the Middle East is a smaller digital currency ecosystem, and the region is the second-smallest worldwide. According to the "2020 Geography of Crypto" study, Turkey captures the most crypto activity in the Middle East. Out of the 154 countries Chainalysis studied, Turkey ranks 29th in the crypto adoption index.
Chainalysis mentions that Turkey is a strong crypto adopter due to the Turkish lira falling in value. The fiat currency crisis was sparked by President Recep Tayyip Erdoğan's authoritarianism and Turkey's mountains of private foreign-currency-denominated debt.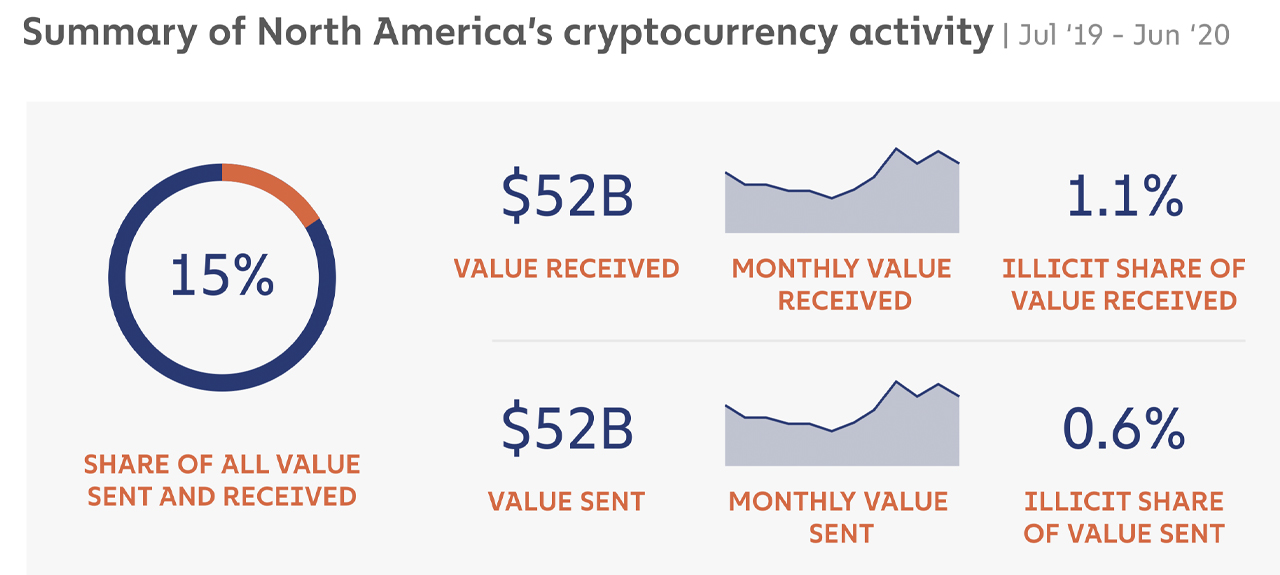 Toward the end of the report, Chainalysis touches on North America (the United States & Canada), which captures "conservative buy-and-hold" investors, and institutional investors as well. North America accounted for $52 billion sent and the same value received during the course of the 12-month span.
"North America is the third most active region by cryptocurrency volume moved onchain, just behind Nothern & Western Europe (NWE) and well behind East Asia," Chainalysis says. Addresses stemming from North America accounted for 14% of all the crypto activity studied during the company's research.
Chainalysis further notes:
North America also hosts a growing class of institutional investors conducting even larger transfers of cryptocurrency.
Additionally, Chainalysis highlights that a number of the global regions have formed crypto alliances. "North America and Nothern & Western Europe (NWE) form a quasi-common market, plus heavy trade with East Asia," the "2020 Geography of Crypto" findings detail.
NWE has a "strong professional market" but also a "surprising" amount of illicit activity. As far as crypto activity is concerned, NWE is the second-largest territory behind East Asia. The NWE region accounts for 17% of all the crypto transactions worldwide.
NWE exhibits similar characteristics to North America in terms of institutional and professional traders. However, NWE's crypto activity is also "largely driven by ransomware and darknet markets."
The 130-page study shows that crypto adoption and activity has grown exponentially in certain regions. A number of other countries and the regional bureaucrats are just becoming aware of cryptocurrency technology, and are falling behind the eight-ball in comparison.
Today in 2020, East Asia is the crowned king of crypto activity worldwide with NWE following behind the region. The report concludes with an interactive crypto index table that shows all 154 countries' Chainalysis studied during the year.
What do you think about East Asia's crypto dominance and the "2020 Geography of Crypto" study? Let us know what you think in the comments section below.
Image Credits: Shutterstock, Pixabay, Wiki Commons, Chainalysis Report,