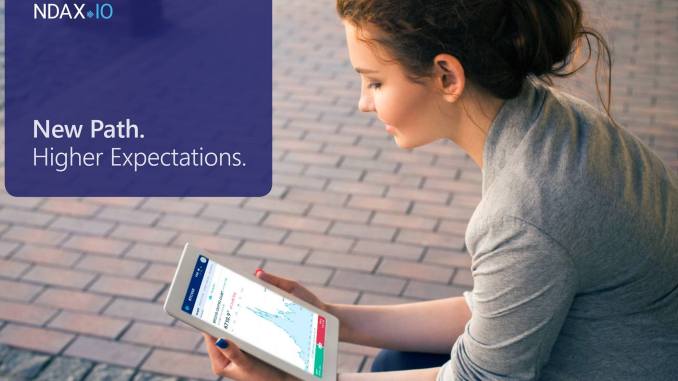 There's a growing chance that cryptocurrency will be a part of your future investment portfolio.
That's what Bilal Hammoud, founder of the Calgary-based National Digital Asset Exchange (NDAX), believes. It's a deflationary asset that no single entity controls and isn't as easily influenced by geopolitical events.
Is it still volatile? Absolutely. But that's why it's attractive to traders.
You can do it all via the NDAX platform. It's a full-service, Compliant exchange platform where you safely and securely buy and sell one of 10 available cryptocurrencies.
Now, you don't need your own supercomputer to participate in the exploding cryptocurrency trading.
From O&G to Bitcoin
Hammoud, a Lebanese-born chemical engineer by trade, like many, was working in Calgary's oil and gas industry. He'd always had an interest in equity trading; one of the main reasons: Inflation.
"I think inflation is one of the main reasons why the poor get poorer and the rich get richer," he said
"It's really not about the yearly three per cent inflation that people are getting poorer, it's because inflation is actually much higher than that."
What Hammoud saw was that people who invested in equities were more easily able to outstrip inflationary pressures on their portfolio. He and group of friends wanted to start a new platform that provided an easier way for average Canadians to invest their hard-earned money.
The problem was, this was back in 2009. The big banks had a stranglehold on the financial services sector. There was no open API bank, among other technology barriers.
"It was not a suitable business model back then," Hammoud said.
Birth of Bitcoin… and NDAX
Bitcoin, the most popular cryptocurrency by current market cap, was created in 2009, by the pseudonym Satoshi Nakamoto. It's based on blockchain technology, which is series of blocks with a collection of transactions.
Bitcoins are mined with supercomputers solving complex mathematical equations. There will only be 21 million mined. Hammoud said the scarcity is comparable to gold.
Hammoud first noticed Bitcoin in 2011 but didn't give it much thought.
"It was this crazy idea," he said.
He tucked it into his watchlist and then stopped watching it. That is until 2014 when it spiked to around $1,100 dollars. In 2013, it fluctuated between $100 and $200.
Today (Sept. 9, 2020) the value of one Bitcoin is $13,488 CDN.
"Everybody was desperately looking to get into Bitcoin," Hammoud said, adding that there'd also been several scams already reported. People needed a legitimate place to buy and sell without having to mine the currency.
"That's when we're like, 'OK, well, that 2009 project didn't work, but perhaps this project will work because we can see a real pain point in the market.'"
That's when he began his journey across Canada, meeting with banks, their directors, compliance officers to see if they could get them to work with their newly-created NDAX.
"Pretty much everybody had the same stories: 'It's high risk and right now. We're not dealing with it,'" Hammoud said.
Finally, an Alberta-based bank took them on as a pilot project and they were on their way.
The NDAX system
Hammoud said NDAX is a simple platform that requires a typical electronic login. From there, you must go through a simple onboarding process to be approved by a compliance officer.
"Then it's a simple as depositing as little as $50 through an Interac transfer to try it out," he said.
They also have a wealth of cryptocurrency information, blogs, support so that even newcomers can feel comfortable making trades.
More people are getting serious about trading cryptocurrency, Hammoud said. A June 2020 article shows that institutional investors are warming up to the idea of cryptocurrency. For that NDAX released their official NDAX wealth trading desks for hedge funds, wealth managers that are looking to enter the space.
During the pandemic, cryptocurrency has soared. On March 20, Bitcoin was valued at $6,195. Six months later, it's nearly 70 per cent higher. At one point it had nearly doubled. An August article in Business Insider showed that millennials are flocking to Bitcoin during the pandemic.
In comparison, the Dow Jones saw an overall increase of just under 50 per cent in that time.
Hammoud compared it once again to gold.
"Gold is over $8 trillion market cap. Bitcoin is at $200 billion, for bitcoin to claim the digital store of value (gold), price of bitcoin needs to go a lot higher," he said.
You can't control the future.
But you can be part of it, Signup today!