The last few months have bolstered the price of the precious metal gold as governments worldwide have created tremendous amounts of debt and inflation. For instance, the value of gold per ounce jumped over $2k during the first week of August. Meanwhile, similarly to the physical counterparts, two blockchain tokens that claim to be backed by gold have seen significant demand and small premiums. While a handful of other 'digital gold' crypto coins have seen market valuations shudder this year.
On August 3, 2020, the price of a single ounce of .999 gold spiked to $2,045 per unit. Since then, the precious metal per ounce lost -5.6% in value during the course of the month.
Experts believe that gold's value could jump to $3k per ounce by the year's end if politicians and central banks continue to create economic disasters. While gold has increased considerably this year, it's been growing much harder to obtain physical bullion, gold coins, and bars unless you buy in bulk.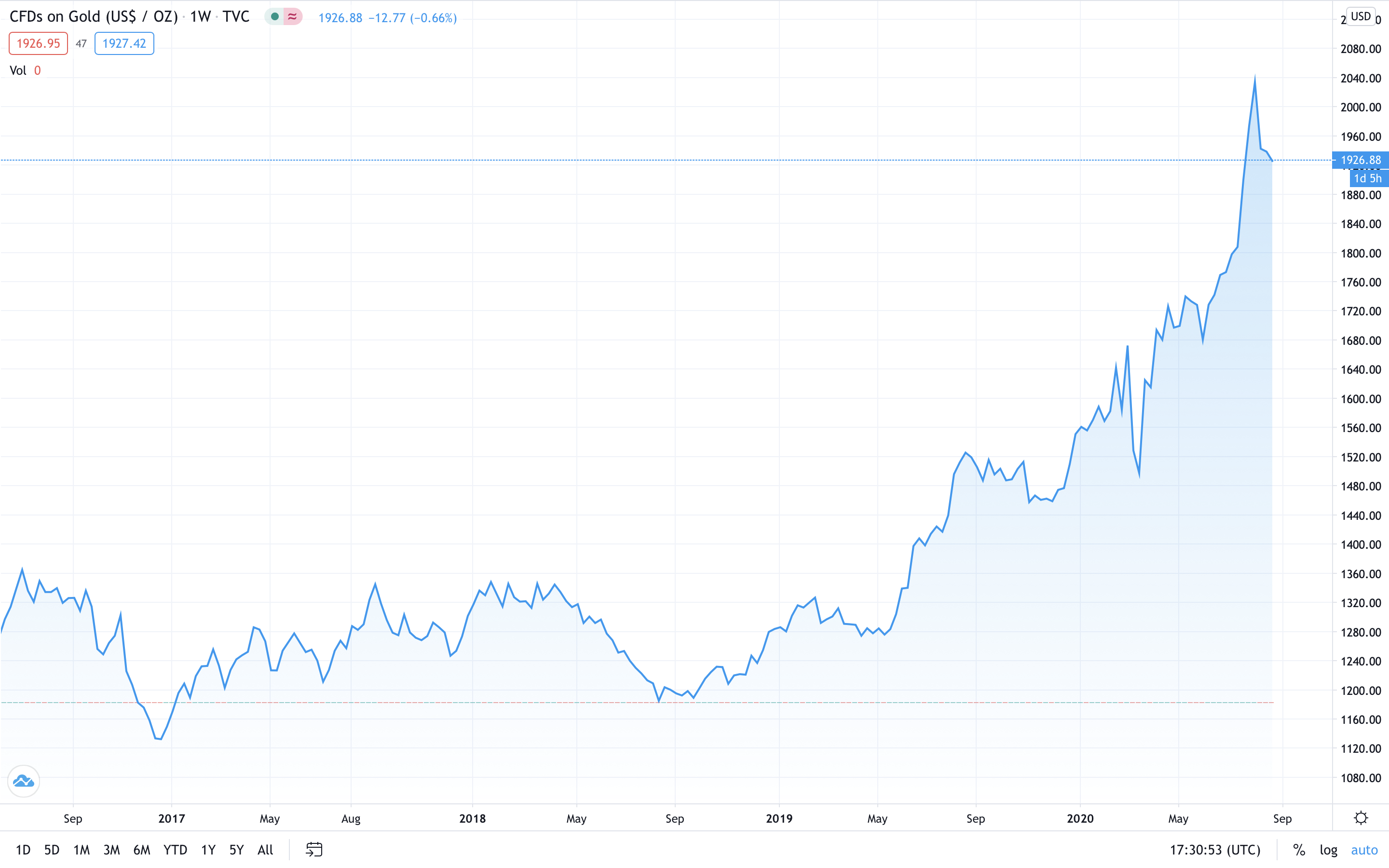 The infamous gold bug and analyst Egon von Greyerz has warned investors on various occasions that in recent months that there is a "massive shortage of physical gold." Especially when it comes to traditional gold futures markets and the London bullion market (LBMA).
The LBMA is one of the largest wholesale over-the-counter markets for gold and silver worldwide.
"There is a massive shortage of physical gold in the futures markets and LBMA system. As gold goes up and the holders of gold ask for physical delivery, there will be no gold available to settle the paper claims," the analyst stressed.
Another sector that has been growing fervently is the demand for gold-backed cryptocurrencies and two of these tokens are fetching a premium. During the last two weeks, the gold-backed tokens PAXG, and XAUT have seen consistent premiums over the spot price of gold between 0.5% to 3%.

For instance, this year there are more than 77 crypto projects that leverage the shiny yellow precious metal. Tether Limited has issued a coin called XAUT which is trading for $1,938 per ounce as opposed to the spot price of gold's $1,926.
A single XAUT is represented by "one troy fine ounce of gold on a London Good Delivery gold bar." XAUT carries a 0.62% premium at the time of publication.

Pax Global's pax gold (PAXG) token also carries a small premium right now over the spot price of gold today at $1,934 per PAXG. The PAXG token is also backed by one fine troy ounce London Good Delivery gold bar.
As far as market valuation and trade volumes, a number of smaller gold-backed tokens pale in comparison to PAXG and XAUT tokens. In 2020, Tether Limited and Pax Global's gold crypto products stand out above the competition.

For instance, during the first month of 2020 Karatgold coin (KBC) has a market capitalization of around $65 million. Today, KBC's market cap is down to $16 million, and during the last 24 hours the token has shed -26.38%. The creators of KBC have been involved in multiple investigations involving financial regulators from a variety of countries.
Digixglobal's digix gold token (DGX) has seen a slight market cap increase since the start of the year, as it has increased $968,892 so far. DGX only has around $200,000 a day worth of global trade volume. The token price of a single DGX has lost -6.54% in value during the last 24 hours.
The project launched by Coinshares, digital gold (DGLD), is featured as an "Untracked Listing" on Coinmarketcap.com, but the website shows no market data.
DGLD trades on the exchange operated by Blockchain.com and the token is paired with bitcoin (BTC). A single DGLD is swapping for 0.016882 BTC ($190) at the time of publication.
What do you think about gold-backed digital currencies? Let us know what you think about these projects in the comments section below.
Image Credits: Shutterstock, Pixabay, Wiki Commons, Blockchain.com, Coinmarketcap.com, Tradingview,