Cryptocurrency trading is an exciting and fast-moving sector. As prices fluctuate rapidly, they offer outstanding trading opportunities for investors and traders. While Bitcoin remains the standalone dominant coin, the newer digital currencies continue to shake up the ever-evolving market. As such, the most traded cryptocurrency can change at any given time.
All in all, crypto is still maturing, with traders continuously looking for their new favourite altcoin to invest in and make a handsome profit down the line. The search for low risk and high reward fuels volatility in the most traded cryptocurrencies.
Crypto market outlook
In a relieving rally, Bitcoin prices had surged earlier in 2019, more than doubling after hitting $3,200 at the end of last year. Despite the recent slump in value, BTC is still one of the best-performing assets of this year.
Through November, the crypto sector has seen some significant developments. Although China has always been a difficult place for crypto trading, their high-ranking officials are now warming up to blockchain. A publication by a state-run newspaper hailing Bitcoin as the first successful application of blockchain technology was a pleasant surprise to many crypto enthusiasts.
China has also revealed their interest in distributed ledger technologies (DLTs) and the PBoC, with the country's central bank reportedly planning to launch a Yuan-backed digital currency in coming weeks. Ultimately, these positive developments can and will have a contagion effect, boosting the prices for crypto in the long term.
But the word of mouth for crypto adoption extends far and wide. Samsung, one of the world's largest electronics manufacturers, unveiled its blockchain platform (SDK) earlier this month, a significant move that highlights how blockchain-derived products, despite the opposition in some quarters, are integral. Samsung's SDK platform will allow developers to create apps and facilitate commerce on blockchain technology.
Being the world's largest economy, the US is a vital jurisdiction in the development of cryptocurrency regulations. For some time now, many analysts have noted the SEC's seemingly adversarial stance towards crypto. On November 3, the Federal Reserve advertised for a managerial position, whose role includes facilitating innovations research around digital currencies, stable coins and distributed ledger technologies. Such a move shows that American regulators are finally acknowledging the fact that cryptocurrencies are likely to stay vital in the future digital world economy.
With these fundamental events affecting prices, a list of the most actively traded cryptocurrencies makes for an interesting read.
Let us have a look at the most traded cryptocurrencies in November.
1. Bitcoin
Evidently, BTC is many years ahead of other cryptocurrencies. The advantage of being a pioneer is, obviously, a clincher. The cryptocurrency remains a hot topic among international investors as more and more people expect the coin to edge higher ahead of May 2020 halving and a probable approval of a Bitcoin ETF by the US SEC. At press time, BTC trades at about $7,256, a massive decline from the 2019 highs of about $13,800.
Trade Bitcoin to US Dollar – BTC/USD CFD
2. Ripple
XRP posted the second-highest trading activity. It is the native currency of the Ripple ledger and is an agent used by xRapid, a solution that incorporates XRP for instantaneous cross-border transfer. Investors are watching the number of Ripple partners who choose to integrate xRapid in their operations after the landmark decision by MoneyGram. The coin currently trades at the range of $0.20-$0.219.
3. Ether
Ethereum, the pioneer smart contracting platform, is the brainchild of one of crypto's most famous innovators, Vitalik Buterin, with Ether (ETH) being the platform's native currency. Despite its market cap being higher than that of XRP, ETH was the third most actively traded coin. Its utility value has made Ethereum the world's second most popular crypto after Bitcoin. Presently, ETH is changing hands at $135 a pop.
4. Tron
TRX is a cryptocurrency that fuels the Tron blockchain. Its charismatic innovator Justin Sun, who is also the CEO of BitTorrent, is behind the project. The platform intends to build the infrastructure necessary to create an open-source content entertainment ecosystem, simultaneously competing with Ethereum and other smart contracting platforms through aggressive marketing. TRX currently trades at $0.0144 and 199 Satoshis to BTC. Notably, even though Sun continues to court controversy, TRX remains unaffected and features among the most traded cryptocurrencies in November.
5. NEO
NEO is an open-source blockchain that seeks to create a "smart-economy" for issuing and managing digital assets. At press time, NEO is trading at $9.55. Investors have an interest in the project because of the range of activities that the NEO ecosystem can sustain and the recent announcement by Chinese President Xi Jinping that the country would be prioritising blockchain going forward.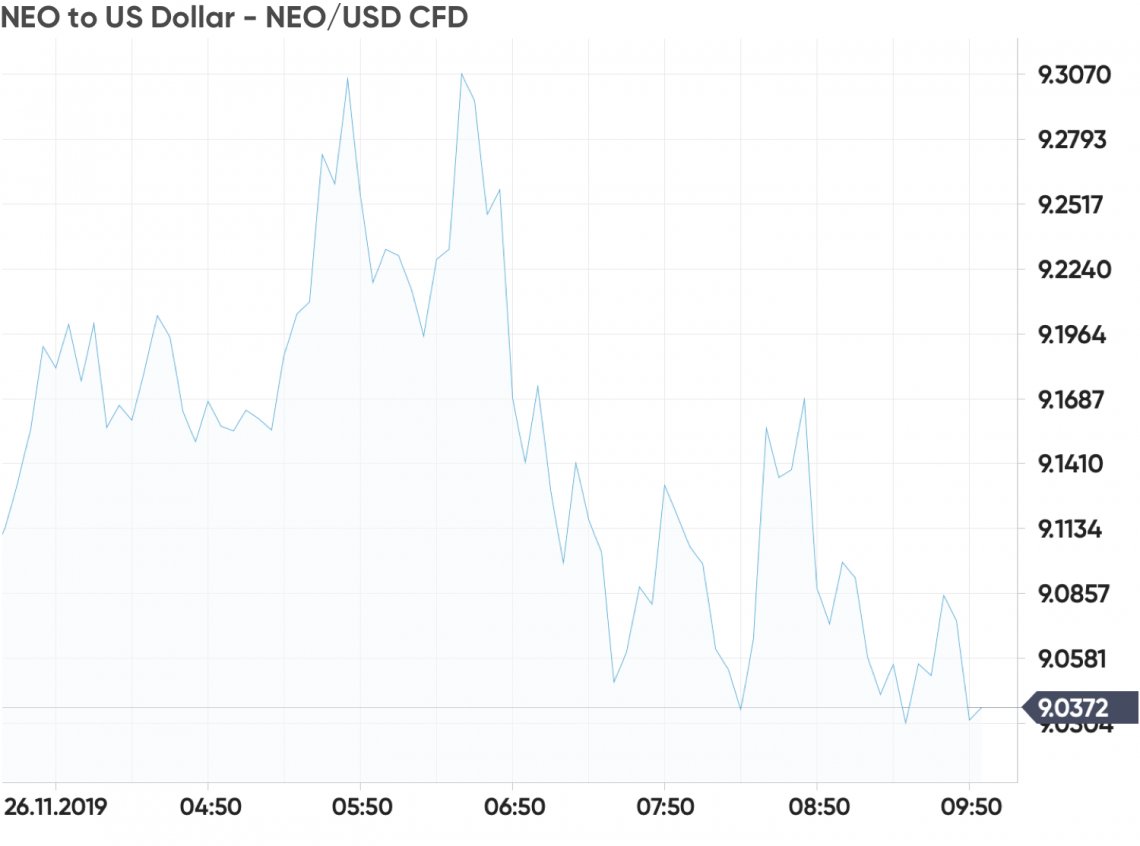 6. Stellar
XLM rounds up this list of the most actively traded cryptocurrencies. Stellar Network is an ecosystem that supports cross border crypto to fiat transactions and a Ripple competitor. Its native cryptocurrency, Lumens (XLM), currently trades at $0.057. Following the burning of 50 per cent of XLM total supply in early November, the community expects XLM demand to increase, lifting prices from the current lull.
When choosing to trade in such a dynamic industry, it is crucial to stay on top of the latest headlines. Bitcoin prices, for instance, move considerably following news on regulation or internal coin politics. For that reason, before making any investment decision, we recommend arming yourself with as much knowledge as possible. To better navigate global markets and be up-to-date with the latest news, follow Capital.com.
How to invest in cryptocurrencies at the end of 2019
Cryptocurrency trading is now easier than ever with contracts for difference, or CFDs.
A contract for difference is a type of a contract between the two parties, typically the "seller" and "buyer", in order to profit from the price difference between the opening and the closing value of the trade. Using CFDs to trade cryptocurrencies, you do not actually buy the underlying asset itself but, instead, simply speculate on its price direction. It allows you to go long or short on your favourite digital coin, providing greater liquidityand easier execution.
However, since CFDs are a leveraged derivative, both winnings and losses are magnified.
Learn more about CFD trading with our free online courses.
Ready to get started?
Download Capital.com